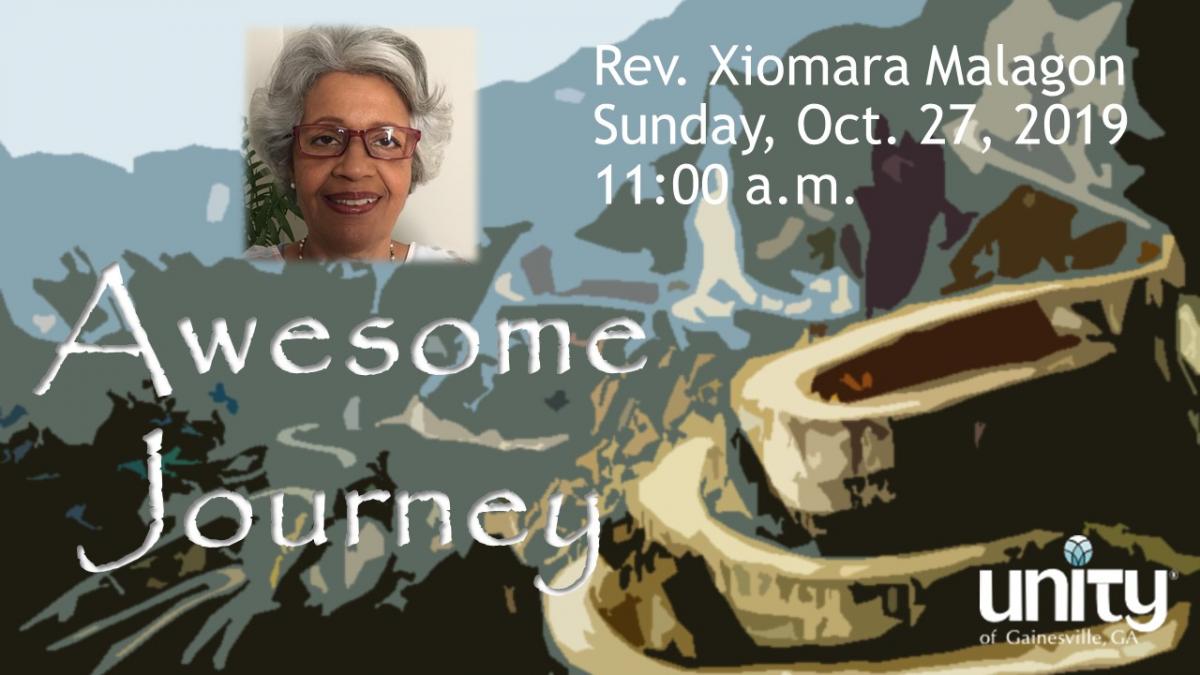 On Oct 27th, Rev. Xiomara will speak on "Awesome Journey."   It is amazing how Spirit equips us to support our journey through life. Rev. Xiomara writes, " Most of the challenges I've faced so far have helped develop the skills necessary to do what I do to serve others."  Rev. Xiomara J. Malagon is from the Dominican Republic (DR). She learned about Unity through a Daily Word subscription she received as a birthday present in the early 80s. She has worked for Unity Worldwide Ministries in the arena of World Support for International Ministries.  In November, Rev. Xiomara will offer a Sunday service in Spanish here at Unity of Gainesville once a month. 
Bible verse from Isaiah 41:10 "do not fear, for I am with you, do not be afraid for I am your God. I will strengthen you, I will help you, I will uphold you with my victorious right hand."
About Rev. Xiomara Malagon
Rev. Xiomara J. Malagon is from the Dominican Republic (DR). She spent most of her childhood and teenage years there. She traveled with her family during that time and throughout her adulthood, which allowed her to meet a variety of people who originated from other countries.
She learned about Unity through a Daily Word subscription she received as a birthday present in the early 80s. The messages in this magazine prompted her to search more about Unity and found Unity of New Thought Center in Coral Gables, FL., which served the Hispanic community of the area. Soon after attending the second service, she made herself available to serve as a volunteer and later on became a member.
She learned more about Unity when attended the second Spanish Retreat held at Unity Village in 1984 and was amazed by the environment and history of Unity. It was during these events held every other year that she met all the Unity leaders from Latin America, the Caribbean, Spain and Hispanic leaders from Continental USA.
When she moved back to DR in 1986, she joined Unity en Dominicana, where she served in many areas of the ministry and as translator/interpreter during the visit of ministers from Unity School and the Association of Unity Churches (AUC) (dba as Unity Worldwide Ministries (UWM)).
She attended the Ministerial Education Program (MEP) at Unity School for Religious Studies as an international student (1997-99). After graduation, she was licensed and ordained as a Unity minister and went back to DR, where she served at all the Unity ministries/centers/groups in the country.
By the end of 2001 she received a call from AUC and was hired to work as Coordinator of the Global Expansion office, which later became the Worldwide Support office. In this position she participated in the creation of Association of Unity leaders (AUL), restructuring some Unity National and creating new ones, the expansion of new ministries and management of the International Ministerial program to support the students outside of USA wanting to become credentialed as Unity ministers and licensed teachers.
By the end of 2010, her daughter Annette was admitted at Georgia Tech and moved to Atlanta. She continued to serve UWM working from her home. Through her career she counseled and coached leaders of AUL, UNS, emerging Unity ministries worldwide and Spanish-speaking ministries in Continental USA. She collaborated with International ministry teams of UWM in the credentialing process of licensing and ordination of international ministers. She retired from this position in April 2018.
Xiomara also served the USA Embassy in DR as Human  Resources Assistant (1989-96), the Dominican Republic Air Force  as English Instructor for military personnel and Assistant to Purchasing Officer stationed in Miami, Fl, (1974-87); Lord & Taylor in the DC area as Sales Associate (1968-86).
Looking back to her upbringing and all the opportunities she had to meet folks with such diverse backgrounds, she says that it's amazing how Spirit equips us to support our journey through life. Most of the challenges she has faced so far have helped her develop the skills necessary to do a lot of the job functions she currently performs.
Her education includes:
Unity School for Religious Studies,
The Peacemaking Skills Institute, training in Peacemaking 2006 & 2011
Silent Unity, training in the Prayer Room ministry, 2007
Defense Language Institute at Lackland AFB San Antonio, TX, certified as English Instructor 1977
Etiquette and Protocol training, Gregg Institute, DR 1976
Spanish-American Institute, NY City, certified as Secretary 1966
Currently, she offers (bi-lingual) lectures as guest speaker, facilitates workshops/seminars and classes at Unity ministries in and outside of the United States; officiates bilingual weddings,  funeral services and baptism. She serves in the Congregational Care team and leads a book reading and discussion group for Hispanics that meets every other Wednesday at Unity Atlanta of Norcross. As of November 2019, she will be facilitating Sunday worship services every second Sunday of the month at Unity of Gainesville Church, GA, to support the Hispanic community in the area.
Xiomara loves designing and making jewelry with metaphysical meaning and seasonal items for decoration; enjoys indoor gardening, reading, cross stich embroidering and walking in nature. She lives with her daughter Annette and pet Coco in Dunwoody, GA.